From September 15 to October 15, National Hispanic Heritage Month recognizes the achievements and contributions of Hispanic Americans to our nation. This celebration started in 1968 as a weeklong event and was expanded to a month-long celebration in 1988 through Public Law 100-402. Each year during this special month, we join in honoring generations of Hispanic Americans who have made positive contributions to our nation and society.
In CCPS, schools took time to recognize National Hispanic Heritage Month in a variety of ways.
Culpeper County High School

On September 30, 2022, Culpeper County High School held an assembly to celebrate Hispanic Heritage Month for all students and staff. The theme of the assembly was the 2022 national Hispanic Heritage Month theme, "Unidos: Inclusivity for a Stronger Nation."
Dr. Soderholm welcomed the audience, followed by a personal testimony by Mr. Gonzalez. Students then presented about the Quinceañera experience, a poem "Bilingüe," a traditional Guatemalan dance. A merengüe dance to the song "La vaca" by Mala Fe. The assembly concluded with a parade of flags.
Eastern View High School
EVHS celebrated Hispanic Heritage month with daily fun facts about Hispanic cultures, icons, and foods on the morning announcements, by playing Hispanic music for all to enjoy in our cafeteria during lunch shifts, and with a bulletin board decorating contest. Our bulletin board contest co-winners, the Library and the ESL department, were treated to lunch by the EVHS PTO for their winning decorations. On Thursday the 13th, students and staff had an opportunity to dress up wearing traditional dress from their country, a t-shirt with the name of their country, or the colors of their country's flag.
Culpeper Middle School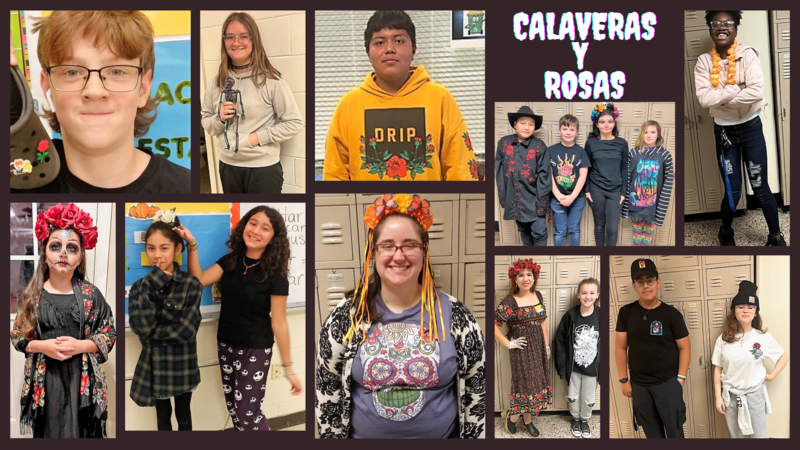 Culpeper Middle School held a Hispanic Heritage Month spirit week October 3 – 7, 2022 spearheaded by the Spanish teacher. Spirit days included Día de Fútbol/Soccer Day, Tres Amigos/Three Friends, Calaveras y Rosas/Skulls and Roses, Corbatas y Coronas/Ties and Tiaras, and Saca tu bandera/Show your flag day.
Floyd T. Binns Middle School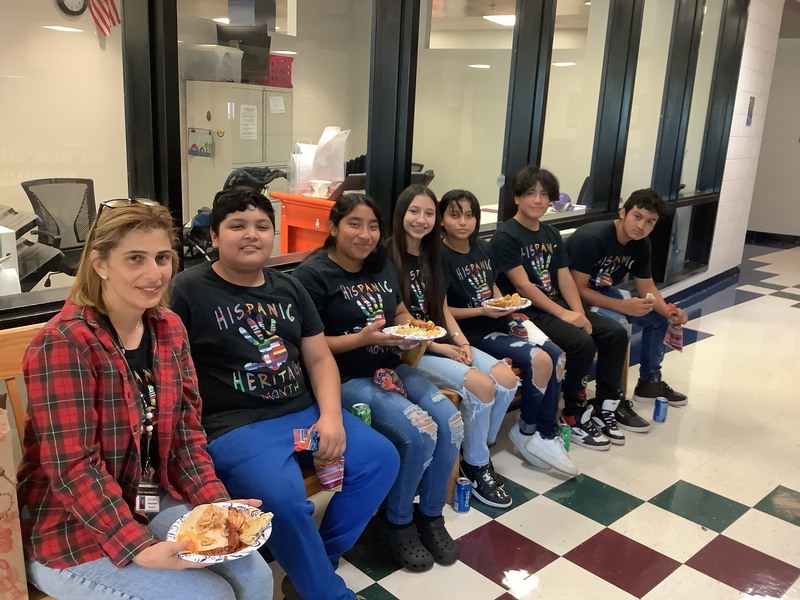 Floyd T. Binns students demonstrated their creativity while learning about Hispanic icons. They created a banner with Selena Quintanilla, César Chávez, Juan Herrera, Sonia Sotomayor, Diego Rivera, Frida Kahlo, and Ellen Ochoa. They also decorated the hallways with beautiful fiesta paper, pompoms, garlands string, and papel picado and a drawing of a beautiful Flamenco dancer. Students were inspired to bring their own diverse heritage and backgrounds to create artwork to represent their countries. Students also put together goodie bags for the teachers. On Friday, October 7, teachers and students wore "Hispanic Heritage" shirts and local restaurants donated food for a Hispanic Heritage month luncheon for teachers. Floyd T. Binns would like to thank El Agave, Pancho Villa, Hondureño /Mexicano, and El Jaripeo Mexican restaurants, in addition to Sonia's Bakery, R Custom Sweets, Martin's Bakery and Safeway for their donations

Farmington Elementary
Students spent the month learning about famous Hispanic people through student made research videos that were shown on the daily morning announcements. Every Friday, each homeroom participated in a trivia contest based on those videos. A bulletin board display was displayed in the upper grade hallway.
Yowell Elementary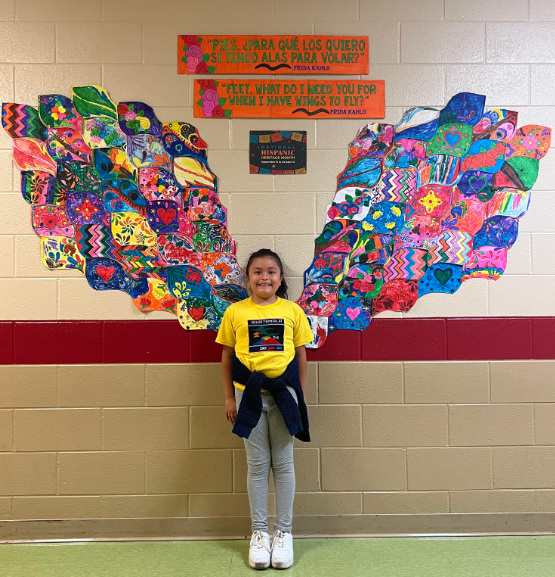 In honor of Hispanic Heritage Month, students have been learning about many amazing Hispanic heroes, including Mexican painter Frida Kahlo. Each student created their very own "Frida Feather" which were all pieced together to create a beautiful set of wings displayed in the main hallway.