Each February, National Career and Technical Education (CTE) month is celebrated across the country. Each week is designated to a Career and Technical Student Organization (CTSO) and this year February 13-17 was National Family, Career and Community Leaders of America Week. The chapter at Eastern View High School celebrated with activities each day for student members. The chapter officers and advisers carried out plans and activities to make for an "IncREDible" week.
Each day's activity highlighted the national organizations pre-planned daily themes, all reflecting this year's theme of "IncREDible" which emphasizes the organization's official color of red. On Monday, our chapter celebrated members with a "Membership Refresher." Members and their friends were invited to enjoy a Starbucks mock-Refresher drink and learn more about joining FCCLA. Tuesday's focus was on service, so students were asked to use their lunchtime to decorate a tote bag that would then be donated to our "adopted grandparents" at The Arbors at Culpeper senior community. Educators received a special thanks on Wednesday as faculty and staff were invited to enjoy Panera coffee and treats. One of the extra special treats offered were macrons made by EVHS FCCLA chapter officer and CTEC culinary student, Jessica Hernandez, who has plans of attending Johnson and Wales University next year to major in culinary. Thursday, students were encouraged to use their Family and Consumer Sciences skill to focus on mindfulness as they enjoyed popcorn, spent time with pets, and a relaxed in a peaceful environment while coloring. Friday ended our celebration as we hosted a Red Party luncheon. Students were invited to bring their lunches to hang out with a small group, play games, and enjoy red-themed snacks.
The Eastern View chapter of FCCLA currently has 400 members affiliated for the 2022-23 school year. The chapter has hosted club activities each month, as well as in-class activities. FCCLA is considered to be "intra-curricular" meaning that the organization is built into the Family and Consumer Sciences curriculum. This year, seven chapter officers including Francesca Corrales, Cassidy Heflin, Jessica Hernandez, Emily Labrie, Jasive Pineda, Anayah Quinn, and Taylor Sain have led the chapter. Not only has the chapter been active at the local level this year, but members have also participated in state events such as FCCLA Day at the State Fair and College Day hosted at James Madison University. Looking ahead, members are planning to attend the Virginia FCCLA State Leadership & Recognition Conference in April are preparing for their STAR Event competitions.
About FCCLA
Family, Career and Community Leaders of America (FCCLA) is a dynamic and effective national student organization that helps young men and women become leaders and address important personal, family, work, and societal issues through Family and Consumer Sciences education. FCCLA has over 199,000 members and more than 4,900 chapters from 46 state associations, the District of Columbia, Puerto Rico, and the Virgin Islands.
FCCLA: The Ultimate Leadership Experience is unique among youth organizations because its programs are planned and run by members, and it's the only career and technical in-school student organization with a central focus on careers that support families. Participation in national FCCLA programs and chapter activities helps members become strong leaders in their families, careers, and communities.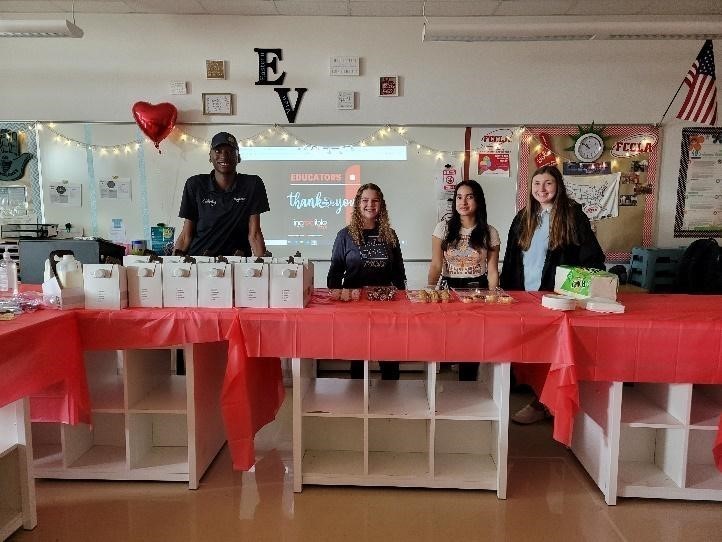 Panera Catering Coordinator and Eastern View FCCLA Alumni, Jaevan Jenkins (far left), helped serve coffee and treats to educators during Wednesday's FCCLA Week activity. Current chapter officers Emily Labrie, Francesca Corrales, and Taylor Sain (pictured left to right) helped plan and implement all the activities and events for this year's FCCLA Week.
@CTE4CCPS